Scion iM 2016
Scion iM 2016: молодежный хэтчбек с уклоном на спортивность
Обзор Scion iM 2016: внешний вид модели, интерьер, технические характеристики, системы безопасности, цены и комплектации. В конце статьи – тест-драйв Scion iM 2016 года!
Содержание обзора:
Внешний вид
Салон
Характеристики Scion iM 2016
Системы безопасности
Стоимость и комплектации Scion iM 2016 года
Видео и фото
Автомобильный бренд Scion малоизвестен на российском рынке — впрочем, это и не удивительно, так как компания создавалась специально для американского потребителя.
Scion («Сайон») является суббрендом японского автоконцерна Toyota, который был создан в середине 2002 года и позиционируется как производитель молодежных автомобилей. В начале 2016 года руководством Toyota было принято волевое решение о закрытии марки, которое пришлось на август 2016 года, а уже с начала 2017 года автомобили «Сайон» будут реализовываться под брендом своего прародителя.
Последней моделью марки Scion стала модель iM, которая впервые была показана в ноябре 2014 г. в рамках Лос-Анджелесской автомобильной выставки. Сразу стоит отметить, что автомобиль не стал откровением и являет собой несколько перелицованный Toyota Auris второй генерации, получивший более агрессивную внешность, которая непременно придется по душе молодежи, являющейся основной покупательской аудиторией марки.
В отличие от своего «родителя» автомобиль предлагается только с одним двигателем, при этом потенциальные покупатели могут дополнительно заказать специальный пакет от гоночного подразделения Toyota, включающий в себя переработанную систему впрыска, спортивные амортизаторы и ряд прочих элементов, призванных сделать машину более динамичной.
Экстерьер Scion iM 2016
Новый Scion iM обладает динамичной и стильной внешностью, которая выполнена в лучших традициях последних автомобилей Toyota. Лицевая часть хэтчбека готова похвастать слегка прищуренной головной оптикой с новомодными LED-огнями дневного света, стильной фальшрадиаторной решеткой, рисунок которой в отличие от Auris выполнен в виде пчелиных сот, а также спортивным передним бампером с огромным воздухозаборником.
При взгляде на профиль хэтчбека нельзя не отметить наличие заваленного в направлении кормы ветрового стекла, благодаря которому коэффициент лобового сопротивления удалось снизить до 0,28 Сх, а также плавно ниспадающей крыши, благодаря чему машина выглядит более динамично и спортивно.
Отдельного внимания заслуживают аккуратные колесные арки, оригинальная задняя стойка треугольной формы и стильные легкосплавные колесные диски. Корма хэтчбека получила компактную дверь багажника, оригинальной формы светотехнику габаритных огней, а также массивный задний бампер с по-спортивному оформленным диффузором, которые лишний раз подчеркивает молодежную направленность марки.
Габариты нового Scion iM составляют:
В длину – 427,5 см;
В ширину – 176 см;
В высоту – 146 см.
Колесная база автомобиля равна 260 см, что представляет собой один из лучших показателей в классе. Высота дорожного просвета составляет 120 мм, что на 20 мм ниже, чем у одноплатформенной Toyota Auris, но даже этого достаточно, чтобы автомобиль смог уверенно преодолевать «лежачих полицейских» и въезжать на бордюры.
Нам импонирует внешний облик Scion iM, который буквально настраивает на агрессивный стиль вождения (благо с динамическими характеристиками у хэтчбека все в порядке).
Интерьер хэтчбека Scion iM 2016
Внутреннее убранство новинки полностью повторяет таковое в модели Auris, и это радует, поскольку японцам удалось создать действительно привлекательный, эргономичный и современный интерьер.
Прямо перед водителем располагается трехспицевый мультируль, обеспечивающий удобный хват, а также современная приборная панель с крупными циферблатами показателей скорости и оборотов, а также дисплеем бортового компьютера. Центральная часть торпедо представлена информационно-развлекательным и блоком регулировки микроклимата.
Японцы подчеркивают, что при создании интерьера ими были использованы более качественные материалы отделки, а также улучшена подгонка деталей друг к другу, впрочем, сборка «тойотовских» салонов уже давно ни у кого не вызывает никаких вопросов.
Передние сидения отличаются хорошей эргономикой, а благодаря большому диапазону регулировок с легкостью примут пассажира любой комплекции. Между креслами располагается небольшой подлокотник, у основания которого находится небольшой бокс для различной мелочевки.
Диван второго ряда рассчитан на троих взрослых седоков, при этом свободного места достаточно не только в высоту и ширину, но и в длину.
Объем багажника Сайон iM составляет 360 л., что пусть и не является рекордным показателем в классе, но будет достаточно большей части потенциальных покупателей модели.
Интерьер хэтчбека привлекает качественными материалами отделки, хорошо продуманной эргономикой рабочего места водителя, а также просторным салоном, рассчитанным на пятерых взрослых седоков. Сам производитель подчеркивает, что салон автомобиля за счет улучшенной шумоизоляции и использования современных материалов является одним из самых тихих в классе, и это действительно так.
Технические характеристики Scion iM 2016
В отличие от своего собрата, который предлагает на выбор один из трех бензиновых моторов, двух дизелей или гибридного бензиново-электрического силового агрегата, Scion iM представлен только одним мотором – 1,8-литровым 137-сильным бензиновым двигателем, стандартно агрегатирующимся 6-ступенчатой механической КПП.
За дополнительную плату покупатель может оборудовать машину CVTi-S вариатором, который настроен таким образом, чтобы обеспечить более динамичную и резвую езду. Этот двигатель обеспечивает хэтчбеку неплохие динамические характеристики: разгон от 0 до 100 занимает менее 10 сек, а максималка ограничена отметкой в 195 км/час. Несмотря на спортивный нрав, расход топлива машины варьируется в пределах 5,5-7,5 литров на 100 км пути.
Машина построена на платформе Тойота Аурис первого поколения, что предполагает наличие стоек Макферсон спереди и балки – сзади.
Автомобиль предлагается исключительно в переднеприводной компоновке, однако ходили слухи о том, что модель может получить также полноприводную трансмиссию. Специально для Scion iM японскими инженерами была перенастроена подвеска и амортизаторы, что положительно сказалось на управляемости, однако назвать автомобиль «мягким» нельзя – подвеска хорошо сбита и весьма нервно отрабатывает мелкие неровности.
Впрочем, это никоим образом не портит впечатления от вождения, да и не стоит забывать, что в отличие от «семейно-практичного» Auris, iM настроен как более драйверский автомобиль.
Безопасность Scion iM 2016
Компания Toyota уже давно снискала славу надежных и чрезвычайно безопасных автомобилей, поэтому было бы удивительно, если Scion iM оказался бы другим. Как и подобает современному хэтчбеку, машина оснащена большим количеством электронных помощников, в числе которых:
Продвинутая антиблокировочная система;
Система курсовой стабилизации;
Активный круиз-контроль;
Система электронного распределения тормозных усилий;
Датчики слежения за «мертвыми» зонами, дорожной разметкой и состоянием водителя;
Система, предотвращающая лобовое столкновение, которая в экстренной ситуации способна самостоятельно замедлить движение автомобиля;
8 подушек безопасности;
Современные 3-х точечные ремни безопасности с преднатяжителями;
Крепления для детских кресел ISOFIX.
Высокие показатели безопасности достигаются также за счет использования более прочных сортов стали, а также расширенным зонам деформации, задача которых — погасить силу удара при лобовом и боковом столкновении.
Примечательно, что Toyota Auris (она же Scion iM) второй генерации уже успела пройти международные краш-тесты EURO NCUP, где завоевала максимальные пять звезд.
Комплектация и цена Scion iM 2016 года
Минимальная цена Scion iM на американском рынке составляет 18,6 тыс. долларов (около 1,14 млн. руб.) за которые покупатель может рассчитывать на следующий уровень оснащения:
Колесные диски 16 радиуса;
Электропривод стекол всех дверей, а также электрорегулируемые зеркала заднего обзора с системой обогрева;
Тканевая обивка салона;
Двухзонный климат-контроль;
Аудиосистема с цветным дисплеем;
6-ступенчатая МКПП;
Продвинутая антиблокировочная система, а также система распределения тормозных усилий и стабилизации;
Панель приборов с цветным дисплеем бортового компьютера;
Многофункциональный руль;
В более дорогих исполнениях автомобиль дополнительно может комплектоваться:
Продвинутым мультимедийным комплексом с большим мультитач дисплеем;
Круиз-контролем;
Расширенным списком электронных систем безопасности;
Кожаной обивкой салона и прочими полезностями, способными подчеркнуть индивидуальность, а также сделать нахождение в машине более комфортным.
За отдельную плату покупателям доступен спорт-пакет TRD, в состав которого входят иная система впуска, амортизаторы, а также усовершенствованные стабилизаторы, отвечающие за поперечную устойчивость хэтчбека.
За топовый вариант исполнения потенциальному покупателю придется расстаться более чем с 25 тыс. долларов.
Заключение о новом Scion iM 2016
Scion iM 2016 модельного года представляет собой несколько улучшенную внешне Toyota Auris, отличающуюся более агрессивной внешностью, по-спортивному настроенной подвеской и рулевым управлением, а также улучшенными динамическими характеристиками.
При этом машина сохранила главные фишки «Аурис»: просторный салон, отменную эргономику рабочего места, вместительный багажник и широкий список стандартного и опционального оборудования.
Тест-драйв Scion iM 2016 года:
2016 Scion iM
Overview
The Good
Overall value
Decent cabin materials
Ride comfort
CVT operation
Gas mileage
The Bad
Handling
Acceleration
Sloppy manual transmission
Snug backseat
No forward-collision, blind spot warning systems
Usability of multimedia system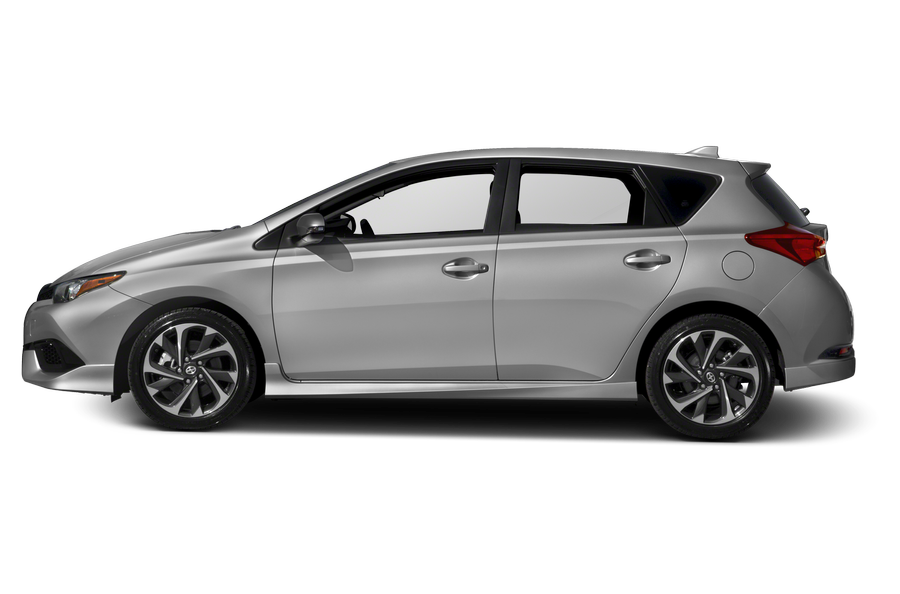 What to Know
We're looking for the best deals on a Scion near you…
Are you looking for more listings?
Please enter a valid 5-digit ZIP code.
Sign up for listing notifications
Please enter your complete email address.
Thanks For Signing Up!
We have received your information, so keep an eye out for emails from Cars.com.
See all local inventory
2016 Scion iM Review
from the Cars.com expert editorial team
From the 2015 New York International Auto Show, Cars.com's Kelsey Mays takes a look at the 2016 Scion iM.
The all-new Scion iM checks a lot of boxes for a low price, but driving fun isn't one of them.
That may come as a surprise to anyone who's seen the iM, a five-door hatchback whose aggressive bodywork recalls the compact-tuner body-type zeitgeist of the 1990s and 2000s. Still, though the styling writes checks the driving experience can't cash, the iM is otherwise a lot of car for its sub-$20,000 price. That, plus Scion's reputation for value and reliability, could attract a lot of shoppers who care little for acceleration or handling.
Typical of most Scions (such as the FR-S), the iM is a single-spec car with a lot of standard features, few factory options and a number of optional dealer accessories. It shares its front-wheel-drive underpinnings with the tC sports coupe and comes with a manual or automatic transmission. We tested both.
The all-new Scion iM checks a lot of boxes for a low price, but driving fun isn't one of them.
That may come as a surprise to anyone who's seen the iM, a five-door hatchback whose aggressive bodywork recalls the compact-tuner body-type zeitgeist of the 1990s and 2000s. Still, though the styling writes checks the driving experience can't cash, the iM is otherwise a lot of car for its sub-$20,000 price. That, plus Scion's reputation for value and reliability, could attract a lot of shoppers who care little for acceleration or handling.
Typical of most Scions (such as the FR-S), the iM is a single-spec car with a lot of standard features, few factory options and a number of optional dealer accessories. It shares its front-wheel-drive underpinnings with the tC sports coupe and comes with a manual or automatic transmission. We tested both.
I'm not sold, but Cars.com editors have mixed opinions overall. Styling is subjective; if you like it, read on.
How It Drives
The Scion iM's sole powertrain — a 1.8-liter four-cylinder shared with the Toyota Corolla — provides modest overall power, but the optional continuously variable automatic transmission puts on a mighty effort to simulate a conventional stepped-gear transmission. CVTs' gearless setup gives rise to a nonlinear "rubber band" sensation between the gas pedal and actual acceleration, and the iM feels as nonlinear as the rest of them under normal use. With more gas, though, it produces a gratifying stepped feel, including a decent (if contrived) kickdown sensation on the highway. It's a slow, noisy climb to 70 mph, but it feels like a traditional automatic, and that counts for something.
Still, fun-to-drive rival hatchbacks like the Mazda3 and Volkswagen Golf are quicker. They're also more fun to throw around. The Scion iM wallows into corners; the steering is a soupy mix of relaxed motions and vague feedback, and the tires lose traction quickly. The nose tracks curves well enough, but the iM feels both lethargic and ponderous throughout the process.
The available six-speed manual does little to rescue the Corolla-like driving experience. With sloppy throws and an awkwardly long clutch takeup, it's an uninspired unit — and it hurts the iM's EPA-estimated fuel economy (the manual is rated 31 mpg combined versus the CVT's competitive 32 mpg). Skip it in favor of the more technological CVT (Which Toyota calls the CVTi-S).
Ride quality is soft but generic. For all the fuss Scion makes over the iM's independent double-wishbone rear suspension — a theoretical advantage over the semi-independent rear ends common in this class — the iM doesn't deliver the supposed advantage of better ride control. It's a reasonably comfortable hatchback, given the P225/45R17 tires don't have a lot of sidewall to absorb bumps, but it can get clumsy at times.
Interior
For a $20,000 car, cabin quality is competitive with other compacts. There's generous padding where it counts, including the upper doors and a padded section where the driver's knee touches the center tunnel. The dashboard has a ribbon of faux-leather stitching that evokes the real stuff far better than the molded stitching along too many Toyota dashboards. The upscale piano-black climate switches are light years beyond the clumsy plastic knobs in the Scion tC and Toyota Yaris. Cheap-looking silvery plastic, something Toyota used to cram everywhere, is sparse.
Dual-zone automatic climate control is standard (a rarity at this price range), as are a leather-wrapped steering wheel, heated power-folding mirrors, automatic headlights and the usual power conveniences you'd expect in a compact car. Typical of Scion, the iM forgoes any significant factory options, including a lot of the luxury features you can get elsewhere in this class: If you want heated or power-adjustable seats, leather upholstery, keyless access or even a moonroof, look elsewhere.
Backseat headroom is good, but the three-position bench is otherwise snug — a result of limited legroom, a low seating position and short bottom cushions. Cabin materials are more basic in back, but that's a drop-off most compacts exhibit.
Cargo & Storage
Cargo space behind the rear seats is 20.8 cubic feet. That's a little short of comparable compact hatchbacks. The seats fold down in a 60/40 split for plenty more room, enough to easily fit some golf clubs and bags of groceries.
Ergonomics & Electronics
Typical of Scion, the iM's stereo fits into a dashboard cutout. That makes it easier to swap for an aftermarket unit, but it looks as inelegant as any stereo from the 1990s or 2000s. The head unit, a 7-inch Pioneer touch-screen that you can upgrade with multi-information navigation for another $900, is a usability mess. The on-screen buttons are small, and the physical controls next to them are even smaller. The volume knob is miniscule, and the tuning knob is missing entirely.
The stereo does, however, have a lot of features. HD radio, Bluetooth phone and audio streaming, USB and auxiliary ports, and Aha internet radio integration are all standard.
Safety
The Scion iM hadn't been crash-tested as of publication. Standard features include eight airbags and a backup camera, but the iM lacks forward collision, lane departure or blind spot warning systems. Click here to see a full list of standard safety features, or here to see our Car Seat Check, which revealed some major space limitations while trying to fit a rear-facing infant seat.
Value in Its Class
Including destination, the Scion iM base starts at $19,255 with a manual transmission or $19,995 with an automatic. That reflects a fairly complete package of standard convenience features with only a handful of available dealer-installed accessories. Given the generous features, plus Scion's two-year free maintenance, the iM has enough value to deserve attention from anyone shopping a modestly equipped variant of the Hyundai Elantra GT, Ford Focus, Mazda3 or Kia Soul.
I'm not sure that makes the Scion iM the most appealing Scion, however. Scion recently introduced another car, the iA subcompact sedan, that's based on the next-generation Mazda2. It has quicker reflexes, comparable seat-of-the-pants acceleration, better gas mileage and more safety features than the iM — and it starts around $16,500. If you're looking at an iM, be sure to check out the iA while you're at it. At the end of the day, the biggest reason not to buy an Scion iM might come from inside Scion's own showroom.
Анонсированы Scion iA и iM 2016 года
2016-scion-im-ia
Впервые продемонстрировав на Нью-Йоркском международном автосалоне 2015 в апреле, Scion теперь выпустил новые изображения своих моделей iA и iM 2016 года. Помимо массы фотографий также анонсированы официальные цены этих последних моделей — седан Scion iA начинает с 15,700$, а 5-дверный хетчбэк Scion iM стартует с 18,460$.
2016-scion-ia-front angle
Scion iA выглядит до странности знакомым, поскольку он, по существу, представляет собой переименованную Mazda 2, построенную в Мексике СП Toyota и Mazda, отличаясь лишь своей зияющей трапециевидной решёткой радиатора. В других местах отличительные черты Mazda более очевидны даже с теми же перенесёнными 16-дюймовыми колёсами. Интерьер также кажется точной копией Mazda 2, за исключением бейджов Scion.
2016-scion-ia-rear-angle
Под капотом можно обнаружить 1.5-литровый двигатель SkyActiv с 4 цилиндрами на 106 л. с. в паре с механической или ​​автоматической коробкой передач с 6 ступенями в обоих случаях. С последней коробкой 1,082-килограммовый седан расходует по городу, шоссе и комбинированной езде 7.13/5.6/6.36 литра на 100 км соответственно.
2016-scion-ia-interior
С точки зрения оборудования безопасности и удобства водителя 2016 Scion iA получает предаварийную систему PCS, шесть предохранительных подушек, бесключевой доступ с запуском двигателя от кнопки, камеру заднего вида, 7-дюймовый сенсорный экран информационно-развлекательной системы с распознаванием голоса, раскладывающееся в пропорции 60:40 заднее сиденье и управляемые боковые зеркала.
2016-scion-im-front angle
Что касается Scion iM, он отличается от Toyota Auris, лежащего в его основе, приняв слегка переработанный передний бампер и небольшое количество бейджов снаружи и внутри. Автомобиль питается от 1.8-литрового двигателя Valvematic на 137 л. с. — опции коробки передач включают 6-ступенчатую ​​механическую и вариатор CVT с 7 ступенями. Потребление топлива в смешанном цикле оценивается в 7.57 и 7.35 литра на 100 км при весе 1,335 и 1,375 кг соответственно.
2016-scion-im-rear-angle
Scion iM поставляется в стандартной комплектации с обвесом, 17-дюймовыми колёсами, 7-дюймовым сенсорным экраном системы Pioneer, камерой заднего вида, двухзонным автоматическим кондиционером и системой помощи на подъёме HSA. Комплект безопасности охватывает в общей сложности восемь аварийных подушек, в том числе для колен водителя и подушку сиденья переднего пассажира.
2016-scion-im-interior
В дилерскую сеть оба автомобиля попадут к 1 сентября.
2016 Scion iM Test Drive Review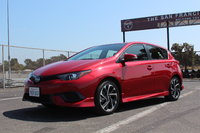 Looking for a Used iM in your area?
CarGurus has 286 nationwide iM listings starting at $7,177.
2016 Scion iM Test Drive Review
The new-to-the-U.S.-market Scion iM gets beaten in nearly every category by rivals, but still manages to present a competitive, attractive overall package.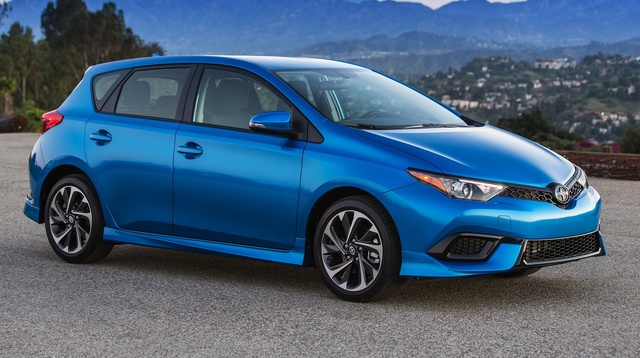 Even though Scion will start bowing out next year, it's sending one more volley across the field before it leaves with the Scion iM. Based partially on the Corolla and the tC, the iM has been previously marketed as the Toyota Auris in the rest of the world, available since 2006. While it's true that competitors offer more power, more space, and a more thrilling ride, that doesn't mean you should discount the little iM. With a surprising list of standard features, 2 years of free scheduled maintenance, and an attractive profile, the iM is still a competitive option.
Look and Feel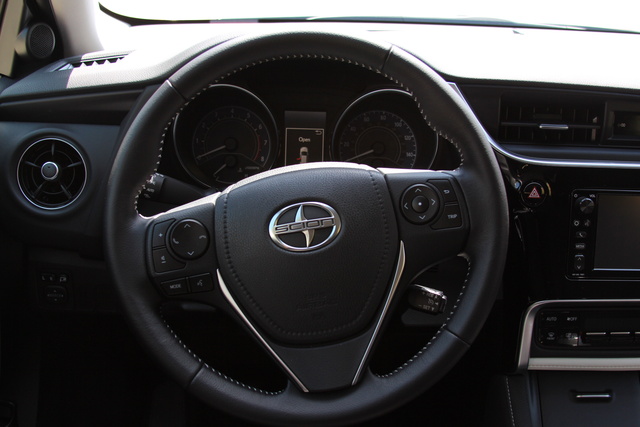 Despite being a subcompact, Toyota aims the iM against larger and more powerful compact competitors like the Ford Focus and the Mazda3, which puts it at a significant disadvantage. When you keep in mind its more humble underpinnings, things are much clearer. But even against other subcompacts, the iM is still one of the slowest in the category and can't boast class-leading space or agility. What it can offer is a slightly different look and a surprising list of standard features that would spark jealousy in cars costing twice as much.
Keeping with Scion's schtick of offering just one trim level and limited options, you can augment your iM with a rear spoiler, a navigation system, some side molding, graphics, a rear bumper protector, and that's it (unless you count protection packages). Thankfully, the iM is not outfitted like most subcompacts. Standards such as power-folding heated mirrors, dual-zone automatic climate controls, 17-inch alloys, keyless ignition and entry, and a tilt-and-telescoping steering wheel really set it apart from rivals. In fact, some of these are options you can't even purchase from certain competitors, especially when you factor in features like the 7-inch touchscreen with rear-view camera. There are strange omissions that come with the one-trim strategy though, because expected safety options like blind-spot monitoring and cross-traffic alert can't even be purchased.
My week with the iM was spent in a version with the 6-speed manual transmission and an MSRP of $19,255. Going for the continuously variable transmission (CVT) will raise that starting point to $19,995, but with the limited power of the iM, the manual is a very attractive choice. This example came with some confusingly expensive options as well, like carpeted floor and cargo mats ($185), wheel locks ($65), and a plastic rear bumper protector for $89. With the $795 delivery and handling fee, total MSRP came to $20,389.
Performance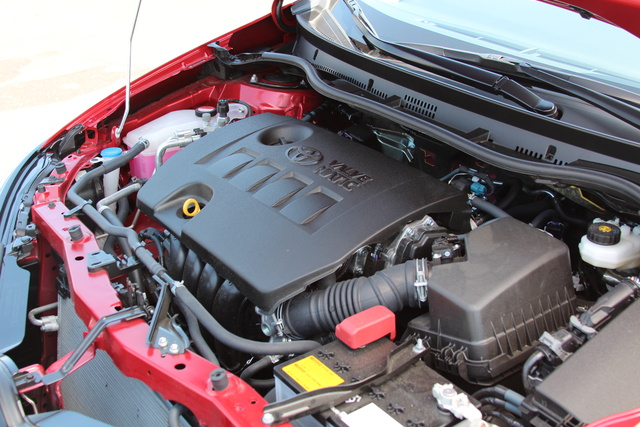 The iM is motivated by a 1.8-liter inline 4-cylinder engine that's been doing duty in the Corolla for years. It's not terribly powerful or exciting, but it's definitely reliable. Still, with 137 hp and 126 lb-ft of torque, the iM's 10-second 0-to-60 time is nearly the slowest in the segment. The 6-speed manual allows you to make the most of that power, and short gearing in first adds a bit of fun feel if not actual speed. But don't let the fact that it's not the fastest in the segment dissuade you from checking out the iM. At least with the 6-speed, it had plenty of power for my week of bombing around the Bay, even enough to climb some pretty steep hills with ease.
Usually you'd assume that with one of the lowest power profiles in the segment you'd get some class-leading efficiency, but that's simply not how the math works here. Estimates are 27 mpg city, 36 highway, and 31 combined with the 6-speed manual, with the CVT adding 1 mpg to all three figures. It's not that these numbers are disappointing, but once again rivals manage to do a little bit better, and in my week's worth of driving, my combined figure was just over 22 mpg thanks to having some fun revving that little engine.
A lot has been written about the suspension shortcomings of the iM, with excessive body roll earning it derision when pushing it through turns. I never experienced this despite getting quite aggressive with it. It certainly doesn't have the architecture or ability to be considered truly "sporty," but it handles itself just fine if you decide to have some fun, and even better it offers a composed ride during normal commuting, even soaking up bumps and irregularities well. For the $20K MSRP, I found it exceeded my expectations.
Form and Function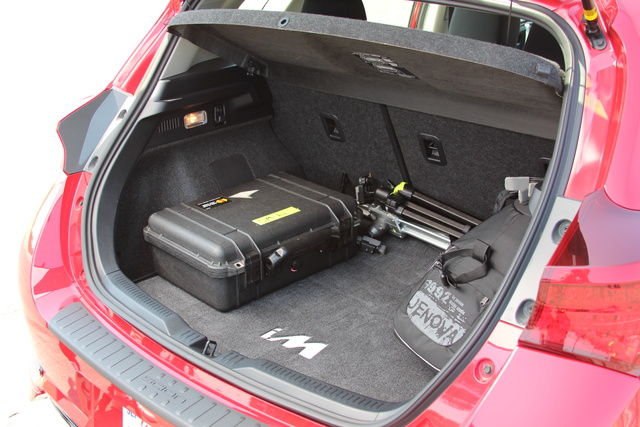 The iM offers a sporty aesthetic from the outside that's likely the source of much of the disappointment resulting from it not being sportier. To be fair, the aggressive angles, optional side skirts, and rear spoiler certainly give the impression of sporting intentions. Couple that with its youth-targeted interior design and standard 6-speed and you can see why people want a bit more. But if you take the iM for what it is—a competent city commuter—you'll see that it manages to accomplish everything it was designed to do. The sharp angles on the outside offer a slightly different look than most of the competition, and the interior's simple yet quirky design is a fresh approach to what could have been a boring placeholder. Little details like a cream-colored leather band across the bottom of the dash are certain to turn off some consumers, but it's unique elements like that which make the iM stand out.
A 7-inch touchscreen sits elegantly in a piano-black dash beneath vents tucked neatly into the design. While the leading aesthetic is simplicity, there's still enough style to make it memorable rather than leaning on ostentatious attempts to set itself apart. Things are even better functionally, with supportive seats and a wealth of interior storage solutions that make commuting and even weekend tripping a breeze. Interior materials are an upgrade for what would normally be expected from Scion, and this is one of the areas where the iM actually outclasses its rivals.
Trunk cargo capacity lands at 20.8 cubic feet, which is respectable but still not class-leading, and turning radius is a similar story at 18.7 feet. What's really strange is that Scion fitted the iM with an independent, dual-control-arm rear suspension, upgrading the torsion-bar setup from the Corolla. Given they didn't make any other suspension upgrades, I find it difficult to justify this choice, especially considering the new architecture intrudes on trunk space versus a traditional torsion-bar rear end, not to mention Scion's goal of keeping prices low.
One final caveat: while forward visibility is open and impressive, it's a different story when looking rearward. The aggressive styling that looks so interesting from the outside means you've got a painfully small rear hatch window and some thick quarters obstructing your view. With no standard or optional blind-spot or cross-traffic alerts, it's something to consider, especially for taller drivers.
Tech Level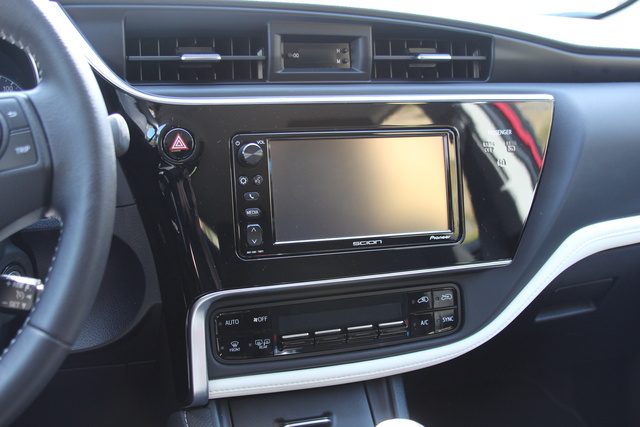 A standard 7-inch touchscreen with a rear-view camera and 6-speaker Pioneer stereo with USB inputs set the iM apart in terms of base-level features offered by the competition. More than that, it looks good and functions well, too, with quick reactions and intuitive design. And while the lack of technological safety features is disappointing, the base inclusion of dual-zone automatic climate controls, power-folding heated mirrors, Bluetooth, and voice recognition are enough to make you reconsider whether having the fastest subcompact on the market is really that important. Let's hope that when it is rebadged next year as the Toyota Corolla iM, it'll get some extra tech options that can fill in some of these blank spots.
Safety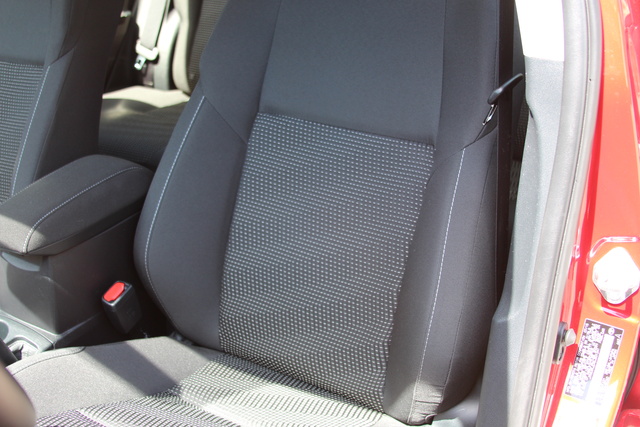 The iM comes with the usual standards of traction and stability control, antilock discs, and a full suite of airbags, including driver's knee and front passenger seat cushion bags. A stop from 60 mph will take around 122 feet, which is about average for the segment, but I'd like to see that drop by a few feet, especially given the iM's rather svelte 3,000-pound curb weight.
Unfortunately, there's been no testing done of the iM by the National Highway Traffic Safety Administration or the Insurance Institute for Highway Safety, but badged as the Auris, it's done very well in European testing.
Cost-Effectiveness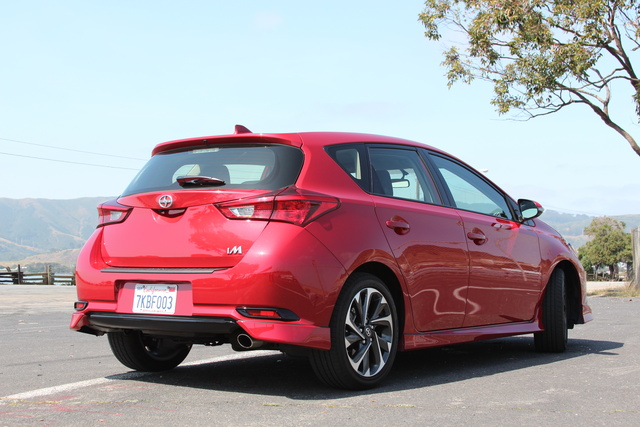 Here's where things get difficult. The iM is certainly not the best example of a subcompact hatchback on the market. The Mazda3 stands out as a perfect all-around package, the VW Golf is more refined, and the Ford Focus offers more power and a more engaging suspension setup. But for the money, the iM offers more standard features and an unheard of 2 years of free scheduled maintenance at a lower price. Value retention will almost certainly be affected by Scion's demise, but given that the iM is based in large part on the Corolla, reliability shouldn't be an issue.
No, the iM isn't the fastest on the market. It doesn't get the best gas mileage, doesn't have the most cargo capacity, and doesn't have the most engaging ride. But it presents a solid second in most of those categories, and with an interesting design and its beefy list of standard features, it makes a strong case for the overall worth of a car being more than just the numbers. If you're looking for a subcompact hatch, it definitely warrants a look.
A CarGurus contributor since 2008, Michael started his career writing about cars with the SCCA – winning awards during his time as editor of Top End magazine. Since then, his journalistic travels have taken him from NY to Boston to CA, completing a cross-country tour on a restored vintage Suzuki. While his preference is for fine German automobiles – and the extra leg room they so often afford – his first automobile memories center around impromptu Mustang vs. Corvette races down the local highway, in the backseat of his father's latest acquisition.
Reader Review: 2016 Scion iM
Scion's target market is a youthful audience. But, that doesn't mean it's exclusive of any other demographic, and the new-for-2016 iM model is an example of how inclusive the brand can be. Just don't expect to be 6-foot-4 and fit the car. That's what Heather and Lance Chalmers discovered when they agreed to a seven-day stint in the Scion iM.
"Lance is 6-foot-4, and a lot of that height is from the waist up," Heather Chalmers said. "And, I'm 5-foot-10 with long legs. My first impression as I got in the car was, 'Where am I going to put my other leg?'" she laughed.
She was finally able to adjust the seat height to her liking, but the driver's chair wouldn't push back far enough for her to fit comfortably for a long trip. Around town, no problem, she said.
Scion, under the Toyota umbrella, is a relatively new car company as it was introduced in the United States in 2002. The vehicles were somewhat quirky, with the icebox on wheels xB the most noticeable. Toyota brought the Scion brand to Canada in 2010, and currently markets here the second-generation xB and tC models, the rear-wheel drive FR-S and now, the iM.
For the iM, Toyota has essentially taken its Auris hatchback – a vehicle available in other global markets – and added Scion badges, a body kit and 17-inch alloy wheels.
Powering the iM is a 1.8-litre inline-four cylinder engine, and it can be paired with either a six-speed manual gearbox or, for an extra $825, a continuously variable transmission (CVT).
Chalmers began her driving career on the farm, piloting tractors and an old 1959 Chevy pickup around the fields. The day she turned 16 she got her driver's licence, and has never been without a set of wheels.
Her brother, Dennis, was an autobody mechanic; there was always something around that he was buying or selling, and he'd let Chalmers drive anything he had.
Her first vehicle, though, was a $600 VW station wagon. There was no heater, and when she washed it all of the windows leaked. That didn't matter, she said, because the car served her well as basic transportation. In the years since, Chalmers has owned and driven a 1978 Camaro restored by her brother – her favourite of all – and a brand-new 1986 Ford Taurus that she said owed her and Lance absolutely nothing when they donated it to the Kidney Car program.
They've since owned four BMWs, and currently maintain a 2013 BMW 535i xDrive and a 2010 Nissan Titan. The car is for city use, and the truck takes them on longer road trips.
When shopping for a new vehicle, Chalmers' top three considerations are cabin room, build quality and fuel efficiency.
The iM obviously failed her first consideration, but turned up a winner in the other two categories.
"It didn't look cheap, inside or out," she said of the $23,817 (including the optional CVT) iM. "The fabric on the seats would be easy to keep clean, but I'm not sure about the shiny black dash – it would show dust quickly."
Layout of the dash and controls was good, she said, but there was some difficulty getting her phone to pair up via Bluetooth.
"It was glitchy," she explained. "I must have tried 12 times to get it to work, and then out of the blue, it connected. I also found the flash drive system for music didn't work very well – I'd say the entertainment system simply wasn't ideal, but I'm not sure if it's the same in all other iMs or just this car."
Chalmers thought the car laboured off the line, and found the four-cylinder engine noisy – not to the point of being obnoxious, however. This was her first driving experience with a CVT powertrain, and while she wasn't a confirmed convert, she said the trade-off was in its efficiency. The Chalmers used 32 litres of regular-grade gasoline to cover 360 kilometres of driving in less-than-ideal road conditions.
Slush, snow and ice were in abundance while she tested the iM, and to see how well the traction control system worked, she shut the feature off while driving the car in their rutted suburban cul-de-sac.
"There was a huge difference in how the car handled," Chalmers said. "The traction control in the iM is amazing, and the vehicle really held the road when conditions were, for example, greasy with slush."
Ride was rated as firm, and the electric power steering was tight and responsive. Brakes, with their four-wheel discs and ABS, were good, and there was no mushy feel at the pedal.
Chalmers loved the hatchback for its utility, and found plenty of room in the back for a Costco haul. However, her pet peeve about the iM was how dirty the tiny rear window got in messy conditions.
"The rear window was small, and the wiper area was even smaller," she said. "You had to be very good with your mirrors, and the fact you couldn't keep the rear window clean drove me squirrelly."
Chalmers approached the road test of the iM thinking about the car as though it might be intended to be a first vehicle.
"The iM had bells and whistles such as air conditioning, backup camera and cruise control, and it handled both the highway and city roads with no problem, although I think it would be better as a city runabout," Chalmers said, and concluded, "I would put anyone in that car, from a kid to a senior, as long as they weren't our size."
DRIVER'S JOURNAL
Day One: I picked up the vehicle, and we had just had a nice dump of snow, so I was able to judge how the car handled on country roads, highway and in the city. With snow tires, the car handled well in snow and slush. It handles well, is relatively quiet and the controls are easy to find (not in weird places or hard to understand). It took some fiddling to pair the phone. The system sounds a warning if you leave the vehicle without removing the key.
Day Two: Costco run to Okotoks. The vehicle rode quite well for such a short wheelbase. Since we were dealing with the slush from the snow earlier in the week, the front and back windows needed constant wiper fluid. There is a headrest for the middle seat in the rear that folds down, allowing for better visibility. The hatchback was a welcome feature, as there is ample space in the back for all our Costco purchases.
Day Three: Today was a short hop to church and back. As before, the drive was easy, the vehicle handled well, steering is nice and tight and rides quite well. I found out by accident that if you have a door open, then push the key fob to lock the door, once you shut the door, it does not lock. All doors must be closed in order for the car to lock.
Day Four: The day to test the electronics. (I was in the passenger seat to do this, not driving distractedly.) The passenger side, although like the driver's side without the capability to push the seat back as far as needed, does allow the passenger to have room to move one's legs. This vehicle does not have a CD player. Rather, there is a USB port for a flash drive (USB Mass Storage), which didn't work very well. The system read the flash drive instantly and started playing the first song in the list. On the display, there are choices for Random, Repeat and Browse. I selected Random (or Shuffle in the Apple world), expecting songs in a different order. It repeated the same song, even though the Repeat button was not selected. I pressed Browse to choose another song. It played that song. Over and over and over and over. Like the odd phone pairing, this feature suddenly started working.
Day Five: A day for running errands in the slushiest conditions. Keeping the back window and the backup camera clean was a chore. The backup camera is in an exposed location, so it muddies up very quickly and renders it not very useful. This vehicle is not meant for tall people and although it has seat belts for five people, it would be a tight squeeze. The back seat is comfortable enough. There is a fold-down armrest with cup holders.
Day Six: Another errand day. We are still dealing with the dump of snow and the melting, so keeping the back window clean was impossible. I would say that would be my pet peeve with this vehicle, even more than the lack of legroom. A nice feature of this vehicle is that there are controls in the steering wheel for phone, song choice and shuffle, etc., and the same controls are in the display. This allows for either the driver or the passenger to access them without much distraction. We were out after dark and had to put the lights on. In the controls there is an Auto function that I assumed would shut the lights off when the car was shut off. Nope. One still has to physically shut the lights off.
Day Seven: We woke to a small skiff of snow, which turned into blizzard-like conditions by noon, which wouldn't have been so bad had the temperature been colder. Rather, it was warm and slushy. Keeping the back window clean enough to see out of was nearly impossible. I also tried the Sport mode in the vehicle. I didn't really notice much difference in the handling of the vehicle. Today was the day I had to return the car, so we went to top up the fuel. I say top up rather than fill, because we hardly used a full tank.
Scion iM ›› 2016 ›› 2016 Scion iM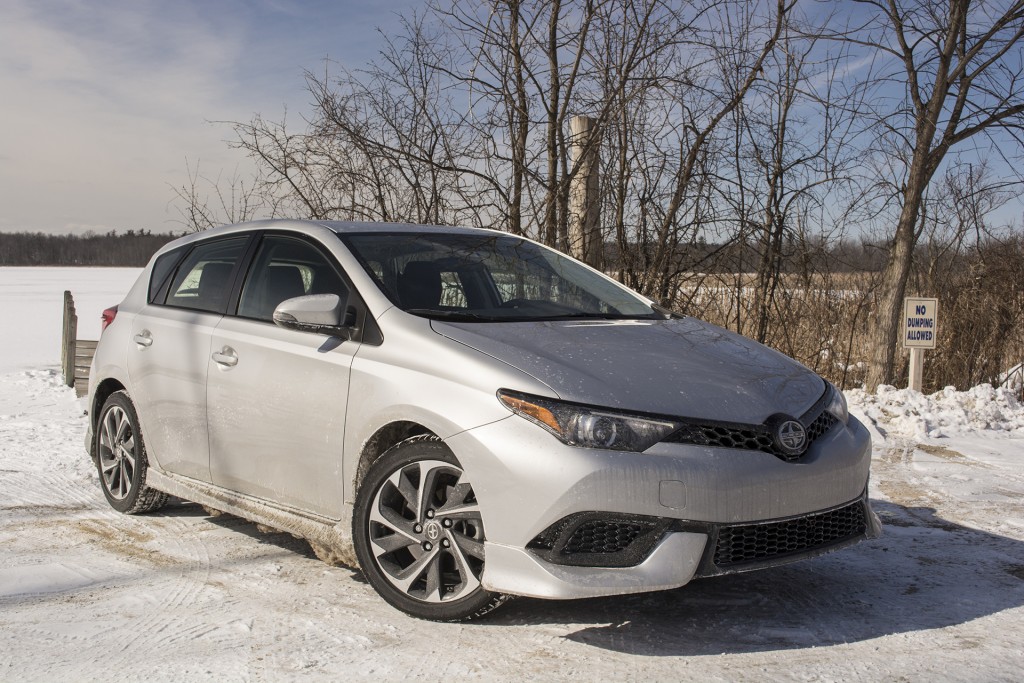 Overview (Final Score: C+)
It seems odd to be reviewing the 2016 Scion iM in light of the news that the brand will be shutting its doors at the end of this model year. The iM and Scion iA subcompact, both introduced last spring, seem like the lame ducks of the brand. But there is some good news as most of Scion's lineup will move over and be sold as Toyotas. In a sense, this review is a guide of what to expect when the Scion iM becomes a Toyota.
What We Love About the 2016 Scion iM
Design that stands out
Lot of standard equipment for a low price
CVT transmission not intrusive
What We Didn't Love About the 2016 Scion iM
Slow acceleration
Engine gets noisy
Poor rear visibility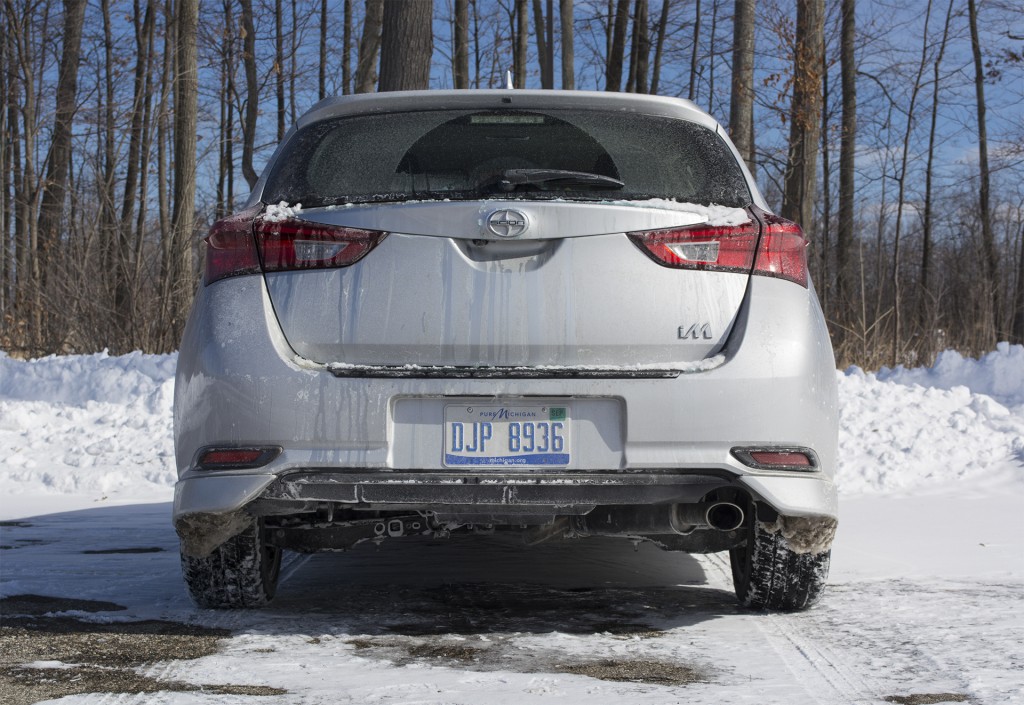 Exterior View (9/10)
The Scion iM comes our way via Europe where it is sold as the Toyota Auris. The only real change from Auris to iM is the badge. The front end is low and features a long and narrow grille, and a distinctive bumper. Around the back is a uniquely shaped tailgate with taillights that extend into the rear fenders. Wheels are a set of 17-inch alloys that help make the iM stand out.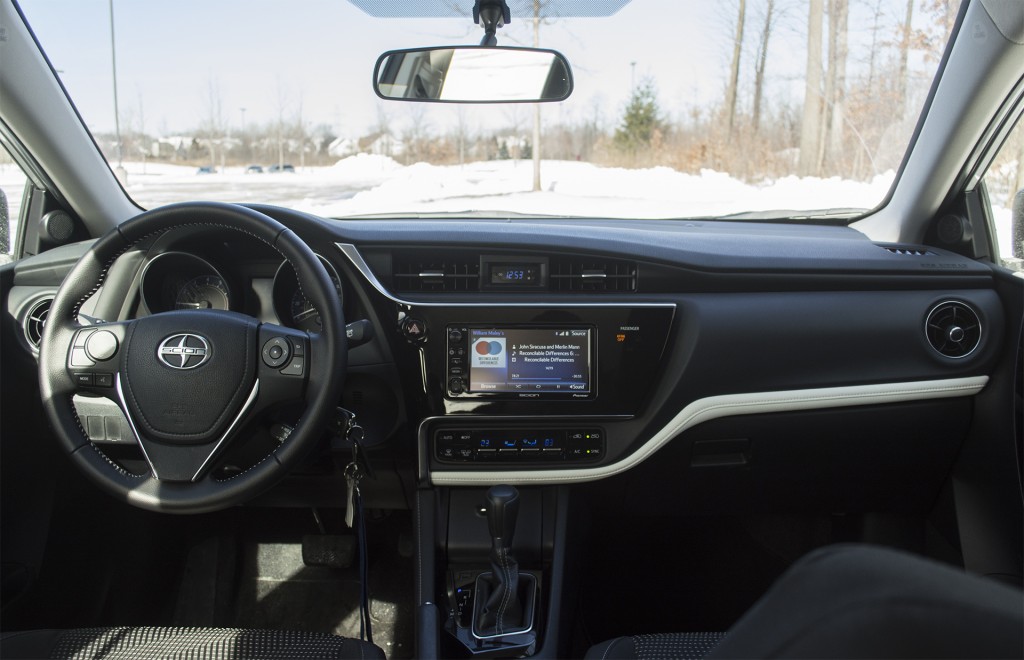 Interior Comfort, Quality and Ease of Use (7/10)
Your first thought when getting inside the Scion iM might be, 'this looks like a Toyota Corolla'. Both models share a similar dash design and various interior parts such as the steering wheel and dual-zone automatic climate control. Most of the materials used are hard plastics which might disappoint some folks. But considering how much the Scion iM costs, this is pretty much what you would expect. At least controls are within easy reach for both driver and passenger.
Seats are upholstered in cloth and provide decent support for short trips. On longer trips, we found ourselves wishing for a bit more thigh support. Getting yourself comfortable is simple with manual adjustments for the seat and the steering wheel offers tilt and telescope. Taller drivers will wish the wheel would telescope out a little bit further. The back seat is small with a limited amount of head and legroom. When it comes cargo space, the Scion iM finishes towards the bottom. Open the hatch and you'll be greeted with 20.8 cubic feet. While this is slightly bigger than the Mazda3 hatchback (20.2 cubic feet), it pales in comparison with the Ford Focus hatchback (23.3 cubic feet) and Volkswagen Golf (22.8 cubic feet). You can fold the rear seats in the iM to increase space, but it will still trail the Focus and Golf.
Technology (8/10)
Considering the low price of the Scion iM, it is impressive that it offers a fair amount of technology. It begins in the instrument cluster where a 4.2-inch color screen provides trip computer information, average fuel economy, and settings. The screen is bright and easy to read at a glance. Then there is a 7-inch touchscreen system, that provides AM/FM/HD radio, Aha internet radio, Bluetooth audio streaming, and inputs for Aux and USB. This system is used on other Toyota products and we like it. The system is one of easiest to use thanks to easy to understand interface and snappy performance. We do wish Toyota would update their system as it is beginning to look somewhat dated. Navigation is available as an option.
Fuel Economy (8/10)
The EPA rates the 2016 Scion iM at 27 City/36 Highway/31 Combined for the six-speed manual and 28 City/37 Highway/32 Combined for the CVT. Our CVT-equipped iM delivered a disappointing 25.3 MPG for the week. Some of this can be attributed to cold temperatures we were dealing with during the time of our test.
Predicted Reliability, Initial Quality Ratings (7/10)
It is still too early to report on the reliability of the Scion iM as the groups who report reliability are still gathering information. We guess that the iM will do pretty well when the results come since the model is based on the Corolla, a model that has earned high marks for reliability. As for Scion as a brand, it has an average reliability rating according to Consumer Reports and J.D. Power.
Safety (N/A)
The National Highway Traffic Safety Administration or Insurance Institute for Highway Safety haven't crash tested the Scion iM at the time of this review. In terms of overall safety equipment, the iM offers a full suite of airbags including a driver's knee airbag, traction control, stability control, and a backup camera. The last item is necessary since rear visibility is poor due to wide rear pillars. We do wish Scion had also put in a blind spot monitoring system to make it a bit easier when passing on the freeway.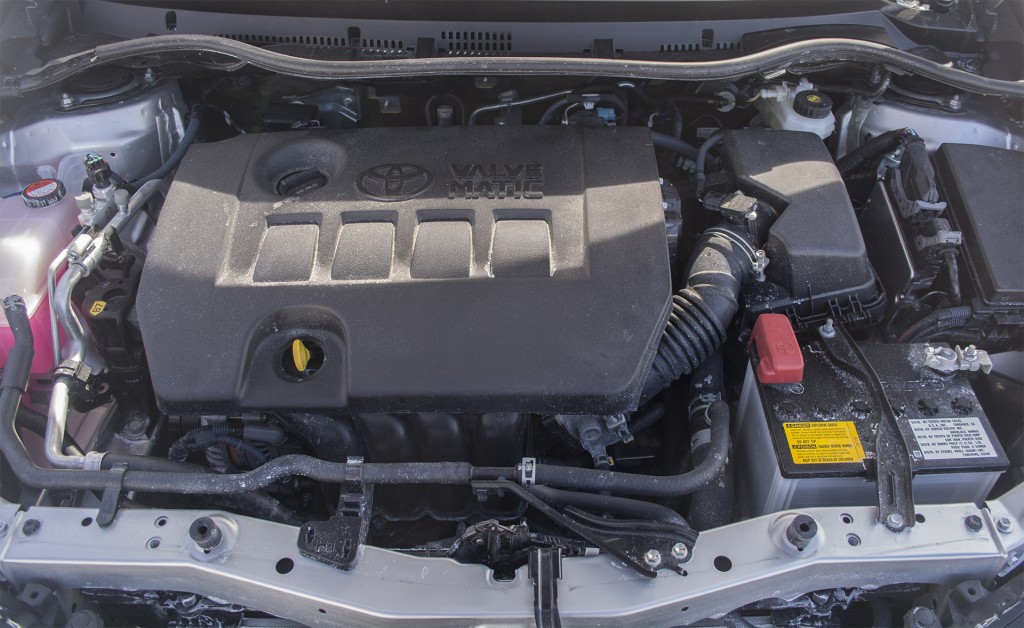 Performance (6/10)
Powering the Scion iM is a 1.8L four-cylinder producing 137 horsepower and 126 pound-feet of torque. A choice of either a six-speed manual or CVT routes the power to the front wheels. Performance is tepid with the engine seeming to make noise than actual power. You really have to work the engine if you want to get up to speed at a decent rate. Out of the two transmissions, the CVT is the preferred choice as it seems to be more in tune with the engine. The manual doesn't feel precise when going from gear to gear and has long throws.
The iM claws back some points when it comes to ride comfort as it seems settled over bumpy roads. This is due to iM having an independent rear suspension, not the Corolla's solid-axle rear suspension. This setup allows the iM to provide not only a somewhat comfortable ride, but also feel planted around turns. The iM isn't a driver's car though as the steering feels quite numb.
Pricing and Value (10/10)
Scion has all of their competitors beat when it comes pricing. The iM starts at $19,255 for the manual transmission and $19,995 for the CVT. For the price, you do get a lot of standard equipment such as keyless entry and start; automatic headlights, power-folding heated mirrors, dual-zone climate control, power windows and locks; and a leather-wrapped steering wheel. Many of these features are only available on higher trims as options or standard equipment on competitors. Our iM tester with the CVT and a few accessories comes to $20,334. A lot of car for not much money.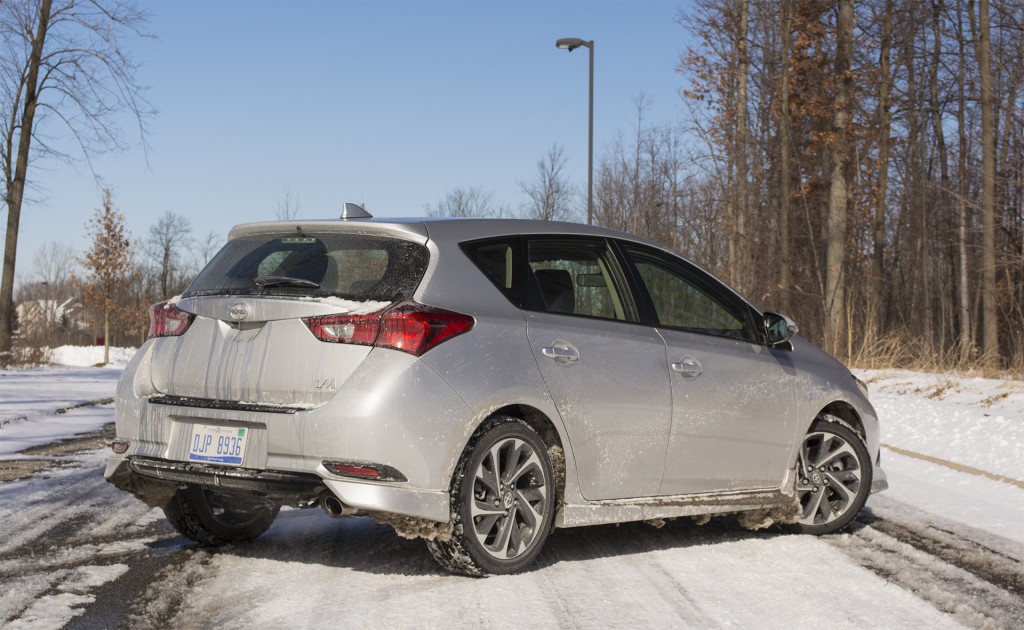 Total Score and Competitive Comparison (55/70, 78.5%)
The Mazda3 hatchback is one most engaging vehicles to drive and provides some of best fuel economy numbers in the class. The Ford Focus isn't far behind in driving fun and provides one of largest cargo areas in the class. Then there is the Volkswagen Golf which many consider to be best in the class with a well-built interior, a balance between sport and comfort, and some impressive resale values.
But the Scion iM can stand up when it comes value as it offers a lot of equipment for a low price. It also is one of the sharpest looking compacts on sale. But those are the only brights spot for the iM as most everything else ranges of mediocre to terrible. As the iM transitions from Scion to Toyota, we hope there are some changes in store such as improving the engine's performance. If you don't have much money to spend for a compact, then the give the iM a close look. Otherwise, we would implore you to look at the competition first before looking at the iM.
Источники:
http://fastmb.ru/testdrive/1559-scion-im-2016-obzor-tehnicheskie-harakteristiki-foto-video.html
http://www.cars.com/research/scion-im-2016/
http://all-test-drives.com/3036-anonsirovany-scion-ia-i-im-2016-goda.html
http://www.cargurus.com/Cars/2016-Scion-iM-Overview-c24892
http://driving.ca/reviews/road-test/reader-review-2016-scion-im/amp
http://www.iseecars.com/car/2016-scion-im